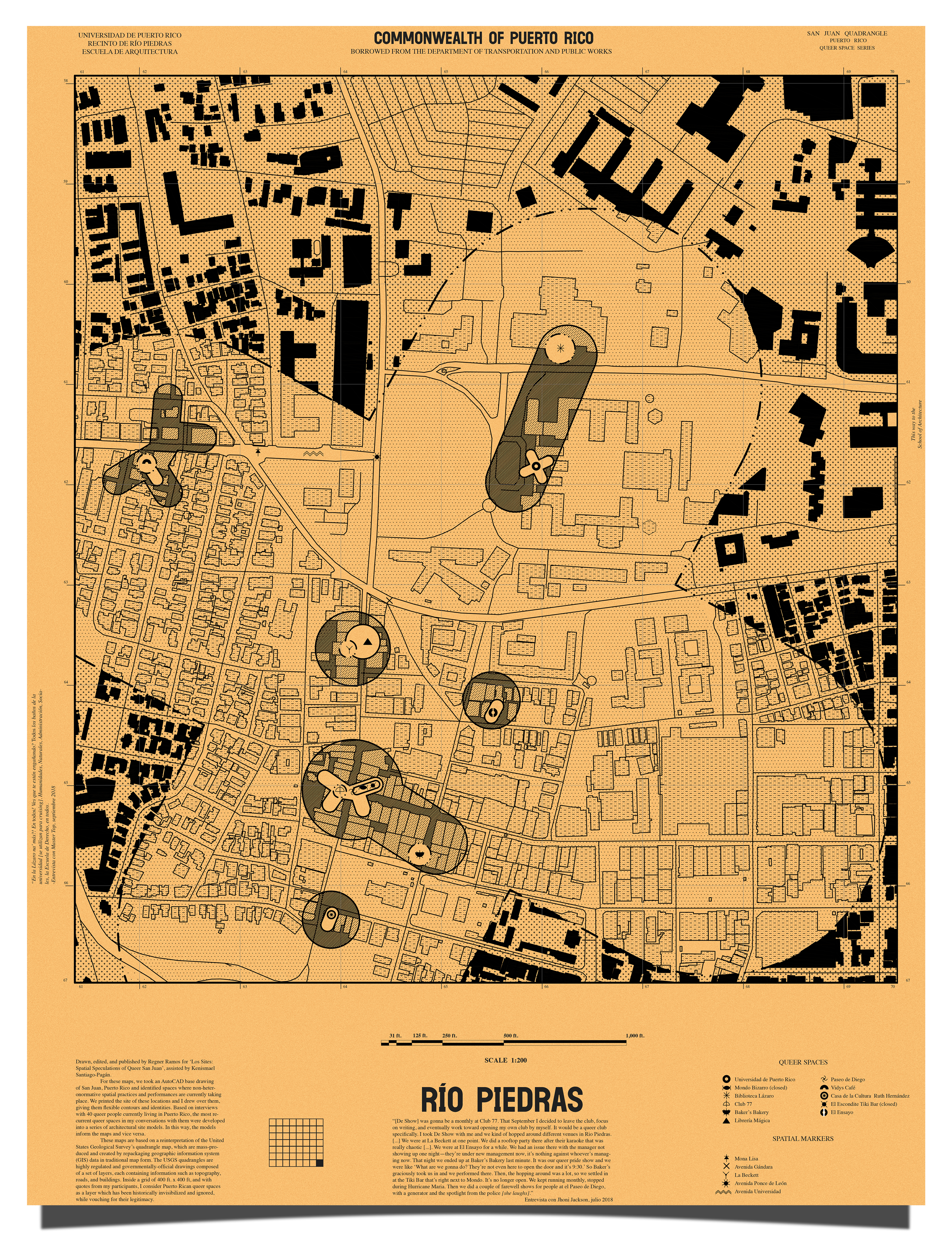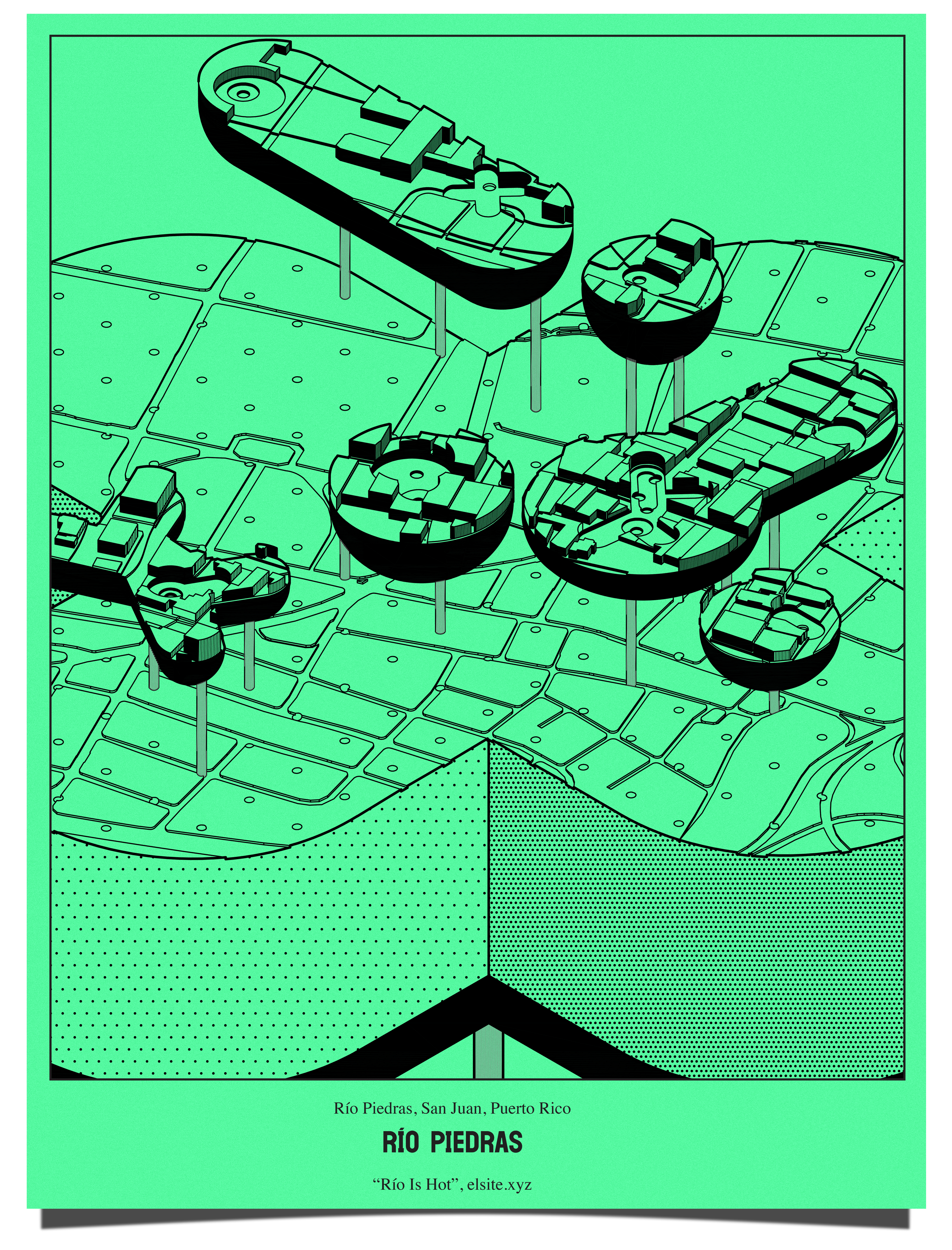 San Juan Queer: Mobile Applications, Urban Spaces, and LGBTQ Identities
07.02.19
Thursday, 4:30PM-5:30PM
@Auditorio Jesús Amaral, School of Architecture, University of Puerto Rico Río Piedras
In this lecture, I discuss the different ways in which queer people in Puerto Rico construct their non-normative identities and navigate through the island's complex spatial politics. I use San Juan as my ground zero, in an attempt at creating a cultural and urban register of contemporary queer spatial practices in the Puerto Rican capital city, while considering the important role mobile app technology plays in queer culture, as well as in individual processes of identity-formation and subjective performance.
Although the number of LGBTQ venues currently open in San Juan are limited—largely in part due to an unstable economy—I propose that these spatial restrictions are creating ephemeral, mobile, and nomadic uses of space. Based on a series of interviews I conducted with 40 participants who identify as non-straight, I take into account nuanced generational shifts in the uses of these technologies—from Adam4Adam to Grindr, from Myspace to Facebook, and from Instagram to Tinder. These networks have been appropriated by a group of people who—in a small island context, but one that is scattered out and largely non-urban—have used them to connect with and meet others, experiment with their identities, and bring visibility to the LGBTQ community. In this way, by shifting back and forth between digital spaces and urban ones, I speculate on the construction of Puerto Rican queerness and the spaces where it unfolds.
Accompanied by Los Sites, a design exhibition showcasing a series of queer sites in Puerto Rico in models and drawings, and this research website, my ongoing research aims to fill a void in the island's architectural and urban discourse and its relation to the LGBTQ community.
__
En esta ponencia expongo diferentes maneras en las que personas queer en Puerto Rico construyen sus identidades no-normativas y navegan condiciones espaciales complejas en la isla. Uso a San Juan como punto de partida, buscando crear un registro cultural y urbano de las prácticas espaciales queer en la capital hoy en día. A su vez, considero el rol imprescindible que juegan las aplicaciones móviles en la cultura queer de la isla y en los procesos individuales de formación de identidad.
El número de espacios LGBTQ que están actualmente abiertos en San Juan es limitado, en parte debido a una economía inestable. Propongo que estas restricciones espaciales están creando usos efímeros, móviles y nomádicos de espacio. Basándome en una serie de entrevistas que llevé acabo con 40 participantes que se identifican como no-heterosexuales, tomo en consideración cambios generacionales sutiles en la manera en que estas personas usan apps y tecnologías digitales –de Adam4Adam a Grindr, de Myspace a Facebook y de Instagram a Tinder. Estas redes han sido apropiadas por un grupo de personas que –en un contexto de isla pequeña, pero que a su vez es mayormente desparramada, suburbana y rural– las han utilizado para contectar y conocer a otros como ellos, experimentar con sus identidades y traer visibilidad a la comunidad LGBTQ en Puerto Rico. De esta manera, moviéndome entre lo digital y lo físico, especulo sobre la construcción de identidades queer puertorriqueñas y los espacios en donde se manifiestan.
Acompañado de Los Sites –una exhibición de diseño mostrando una serie de sites queer en Puerto Rico a través de maquetas y dibujos– y de este website activo de investigación, mi trabajo busca llenar un vacío en el discurso arquitectónico y urbano de Puerto Rico en relación a la comunidad LGBTQ.