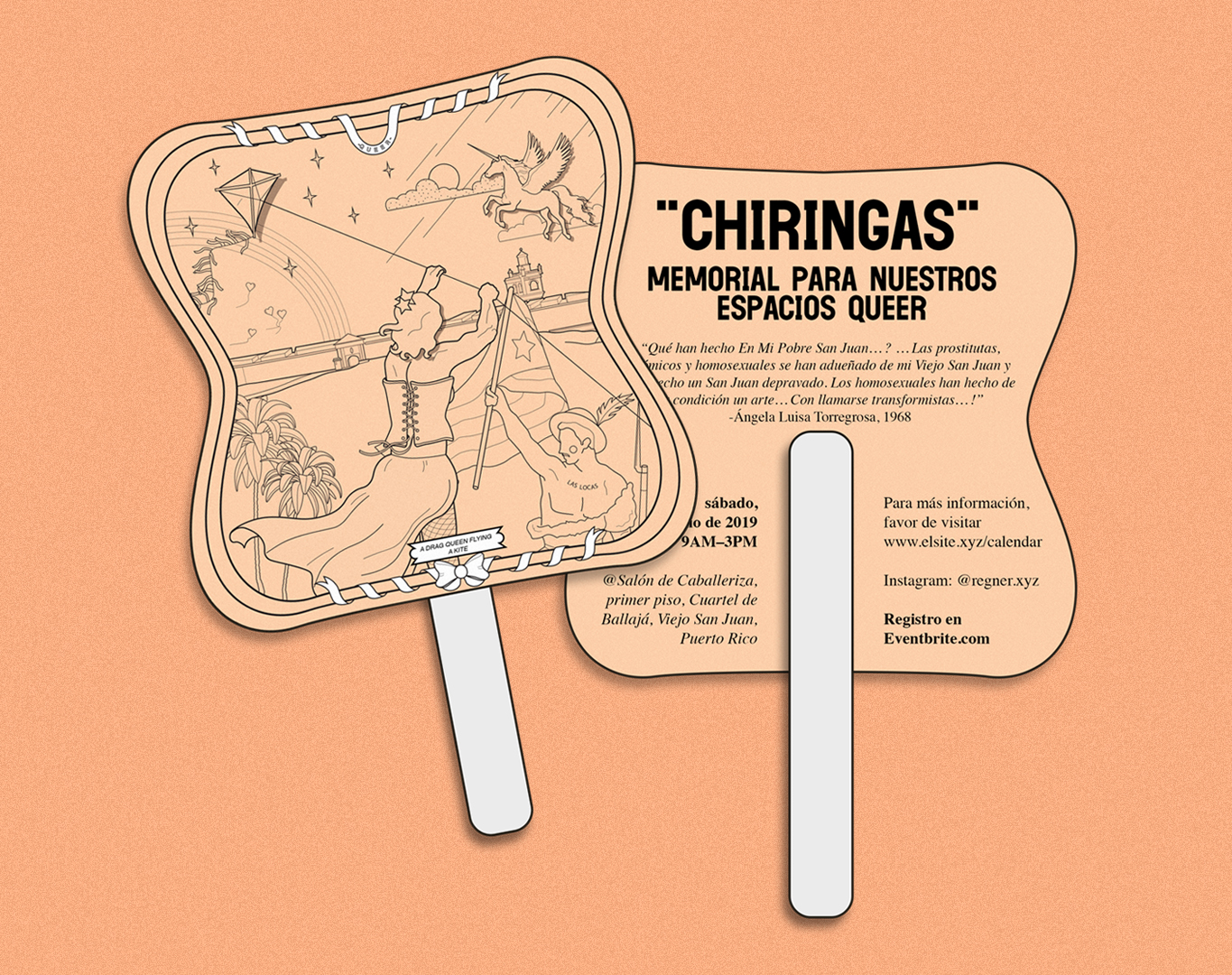 CHIRINGAS: Memorial Para Nuestros Espacios Queer
15.06.19
June 15, 2019
9AM-3PM
@Salón de Caballeriza y Predios del Morro, Cuartel de Ballajá, Old San Juan, Puerto Rico
"Qué han hecho En Mi Pobre San Juan…? … Las prostitutas, atómicos y homosexuales se han adueñado de mi Viejo San Juan y han hecho un San Juan depravado. Los homosexuales han hecho de su condición un arte… Con llamarse transformistas…!"
-Ángela Luisa Torregrosa, 1968
ENGLISH:
Old San Juan was once the site of a network of LBGTQ venues—bars, clubs, guesthouses, bathhouses, libraries, stores, cafes—activated largely through the presence of drag performers, particularly from the 1960s. Today, however, there are no explicitly branded queer spaces left. Its last venue, Polo Norte Gay Bar and Lounge, closed in May 2018, a few months after Hurricane María hit the island.
Taking place during Pride month, "CHIRINGAS" is a site-based workshop and performance piece taking place between El Morro and el Cuartel de Ballajá, and it is open for members and allies of the LGBTQ community in Puerto Rico.
According to historian Javier Laureano, Old San Juan's urban and architectural design gives way to division and binaries, foregrounding what is considered normal and abnormal. Even today, the act of kite-flying in the context of Old San Juan is itself a practice strongly linked to the idea of the traditional, heteronormative Puerto Rican family. By flying a set of kites, each representing a queer space which is no longer open, "CHIRINGAS" queers Puerto Rican tradition and appropriates an iconic space within the city. In this way, it becomes an act of queer visibility, resistance and appropriation in one of Old San Juan's most policed spaces historically, within a strategic military panopticon used for control and surveillance.
Keeping in mind that—as Laureano writes—homosexuals in San Juan were persecuted, watched and arrested if they showed affection or sexual attraction in public spaces, "CHIRINGAS" remembers and celebrates the queer spaces that are no longer, while marking the presence of a resilient queer community advocating for a claim over Puerto Rican LGBTQ spaces.
Agenda:
9AM-2PM: Kite-building workshop
2:15PM: Procession to performance site
2:30PM: Eulogy
2:45PM: Kite flight performance
Participants must register via Eventbrite. Materials will be provided but participants may bring their own materials to paint, decorate or queer their kites. Queer and/or drag dress code highly encouraged. We want particularly invite trans identities, performers, people of all ages, of all backgrounds, of all skin colors, bodies and gender identites.
CHIRINGAS is organized and produced by Dr. Regner Ramos at the School of Architecture of the University of Puerto Rico Río Piedras, with Kleanthis Kyriakou from University of the Arts London Central Saint Martins College of Art and Design, in collaboration with the State Historic Preservation Office.
SPANISH:
El Viejo San Juan fue una vez hogar para un circuito de espacios de la comunidad LGBTT puertorriqueña: barras, clubes, casas de huéspedes, librerías, cafés, tiendas, baños públicos. Estos espacios fueron grandemente activados por la presencia de transformistas dentro de la zona, particularmente desde la década de los sesentas. Hoy, sin embargo, después del cierre de su último local, Polo Norte Gay Bar and Lounge—que cerró sus puertas en mayo del 2018, pocos meses después del impacto del Huracán María—, no queda ni un solo espacio explícitamente denominado LGBTT—o queer—dentro de Viejo San Juan.
Tomando lugar durante el mes de Orgullo, "CHIRINGAS" es un workshop y una obra performativa que ocurrirá entre El Morro y el Cuartel de Ballajá, abierto a miembros y aliadxs de la comunidad LGBTT puertorriqueña
De acuerdo al historiador puertorriqueño Javier Laureano, el diseño urbano y arquitectónico de Viejo San Juan dio paso a la división y al fortalecimiento de binarios, estableciendo diferencias entre lo normal y lo anormal. Aún al día de hoy, el mero acto de volar chiringas frente al Morro evidencia una práctica fuertemente ligada a la idea de la familia tradicional heteronormativa puertorriqueña. A través de la confección y vuelo de estos cometas—cada uno representando un espacio queer que dejó de existir—"CHIRINGAS" pretende cüirizar esta tradición puertorriqueña mientras se apropia de un espacio emblemático de la ciudad. De esta manera, "CHIRINGAS" se convierte en un acto de visibilidad, resistencia y reclamo queer en uno de los espacios más supervisados en la historia del Viejo San Juan: dentro de un panóptico militar que fue y continúa siendo herramienta de control y vigilancia.
Tomando en cuenta que, como bien escribe Laureano, los homosexuales—o mejor dicho, toda identidad no-heternormativa—fueron perseguidxs, vigiladxs y arrestadxs si expresaban afecto o atracción sexual en espacios públicos, "CHIRINGAS" busca recordar, conmemorar y celebrar los espacios queer que ya no están entre nosotrxs. A su vez, a través de estos objetos en el cielo, "CHIRINGAS" busca marcar la presencia activa de una comunidad resiliente, queer, puertorriqueña que aboga por su derecho a arquitecturas y espacios urbanos.
Agenda:
9AM-2PM: Workshop de diseño y confección de chiringas
2:15PM: Procesión hacia los predios del Morro
2:30PM: Elogio
2:45PM: Performance volando chiringas
Lxs participantes deben registrarse en Eventbrite pulsando aquí. Se proveeran materiales, pero pueden traer sus propios materiales para pintar, decorar, cüirizar sus chiringas. Vestimenta queer y/o en drag highly encouraged. Le queremos extender la invitación particularmente a personas trans, a performers, a personas de todas las edades, de todos los backgrounds, de todo color de piel, tipo de cuerpo e identidad de género.
"CHIRINGAS" está organizado y producido por el Dr. Regner Ramos de la Escuela de Arquitectura de la Universidad de Puerto Rico Recinto de Río Piedras, con Kleanthis Kyriakou de University of the Arts London Central Saint Martins College of Art and Design, con el apoyo de la Oficina Estatal de Conservación Histórica.